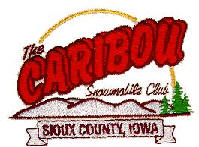 The Sioux County Snowmobile Club (formerly called The Caribou Snowmobile Club) Snow Line: 722-SNOW
---
President:
Mike Van Es Vice President/ Secretary/Reporter: Kevin Nibbelink
Treasurer: Dave Koopman
Club Advisors: Mike Van Zee, Jaris Visscher, Al Schouten, Randy Kooima
Come Join the Club!

powered by

bravenet.com

Important Snowmobile Rules
1. Stay off private, residential property unless permission has been obtained.
2. Snowmobiles are not allowed on city streets after snow has been cleared except for leaving and coming back to the community by direct route.
3. Snowmobiles should not operate on or cross a public highway driven by a person under 16 years of age who does not have a safety certificate in his possession and accompanied by an adult.
4. Snowmobiles must obey traffic laws.


If you have comments or suggestions, email us at caribou@mtcnet.net